I've partnered with 20 authors to create an inspirational book filled with true stories – each will grip your heart and bring you to new depths of faith in a REAL and good God.
Have you experienced a time when God "showed up" in your life? A time when the intervention was NOT coincidence. There was NO natural explanation. One of those "aha" moments? Join me on a journey through inspiring true stories where God lovingly "shows up" and transforms lives. Expect to find a REAL God who heals, protects, provides and speaks into everyday lives. These heart-moving stories will bring hope, encouragement and transforming belief to your heart.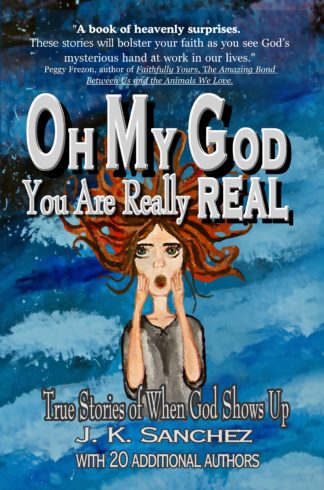 Buy Paperback   Buy ebook

Oh My God You Are Really Real. 
Check out  a personal Journal as well.

Buy Paperback

New Journal – A prayer journal
Prayer is uniquely multi-faceted, and it encompasses your relationship as well as communication with a very living God. As you continue your prayer journey, journaling is a great source of joy. Journaling your prayer time of petition and intercession while leaving room for answers, directions and revelations from God becomes a great tool of documentation; available to ruminate over, in years ahead.   Buy Paperback